Looking to apply for a government position, but not sure how the application process works? Don't worry! We're here to highlight the key points, and help you understand how it all works.
The first thing you need to know is that government job applications are more detailed than most applications for the private sector. This is because the roles in the public sector are paid for by taxes, so they need to be accountable, and be sure that they are hiring the most suitable candidate. To be considered for a role, your application needs to use the STAR (Situation, Task, Action, Result) model.
The STAR approach is the best way to address the selection criteria for the role. It also requires a more in-depth approach to writing them than the average cover letter and resume combination. If you don't have the time, or would like someone with experience to address the selection criteria for you, we're here to help.
If you're looking for local government positions, rather than the State, try going directly to your local council's website and going to the career page. Another option is to check local jobs across the entire State by visiting www.lgassist.com.au and searching by State.
Applying to Work for the State Government
Application requirements for state government roles vary, not just between states but also in different positions within the same State. Regardless of where you're applying, and what role it's for, submissions will always require at least two things:
Your resume, detailing your education, work experience, and skills
A written statement of application or cover letter.
All open opportunities will also have closing dates and cut-off times, check these carefully. Some dates have a standard 11:59 pm cut-off, other close earlier in the day: 4:00 pm or 5:00 pm. None of the states accept late submissions, so make sure you submit early enough.
Read on to learn the submission requirements as outlined by each State. If you want to jump ahead to your State, the listings are as follows:
Queensland
New South Wales
Victoria
Australian Capital Territory
Tasmania
Northern Territory
South Australia
Western Australia
QLD
How to find Queensland Government jobs
You can find available positions with the Queensland Government directly through their website: https://smartjobs.qld.gov.au, and some positions are also advertised through job search websites.
If you go through the government website, as well as searching by location, keyword, salary, and occupation group, there are also direct links to different departments' application and information pages.
How to Apply for Queensland Government Jobs
Queensland Government job applications are relatively straightforward; they all have submission requirements detailed somewhere in the job ad. Most just require a resume (sometimes with a page length restriction) and a 2-page cover letter or statement that outlines your suitability to the role.
At the bottom of each advertisement for an available position is an attached document that you are recommended to read. Follow that advice. Not only does it tell you the details and requirements for the role you're applying for, but it also contains the 'how to apply' section. You'll need to read through the document to make sure you address the criteria that they're looking for, what they want to be included in your cover letter or statement, and whether there are any other submission requirements.
The following screenshot shows an example of a position that has the basic submission requirements in the ad, and tells you that the selection criteria are outlined in the attached description.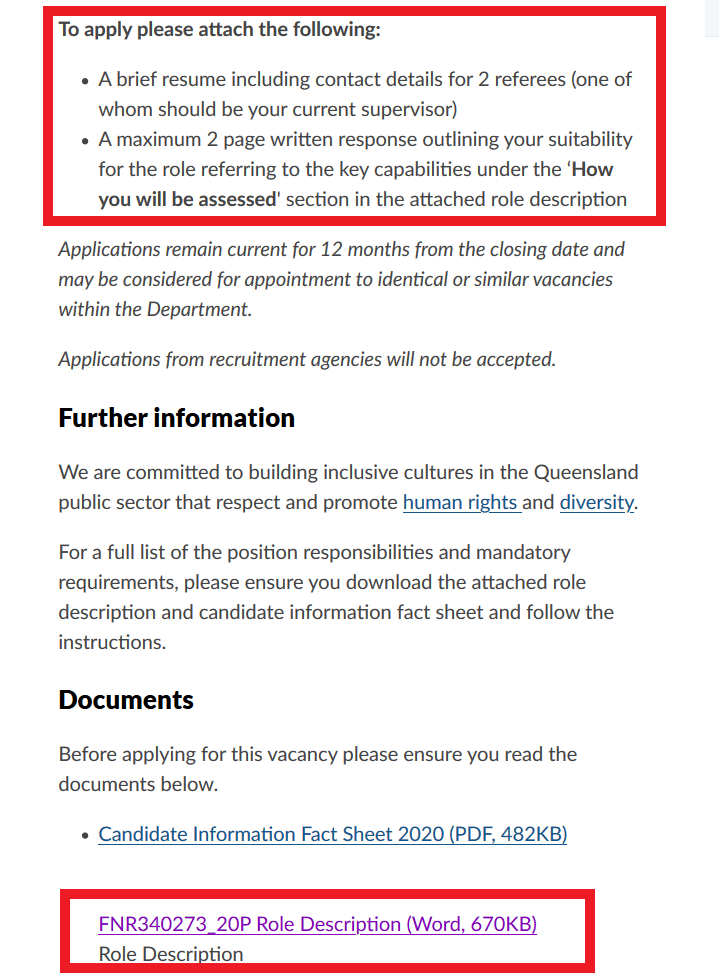 Along with the role description, the attached document also defines the specific criteria to address in your application: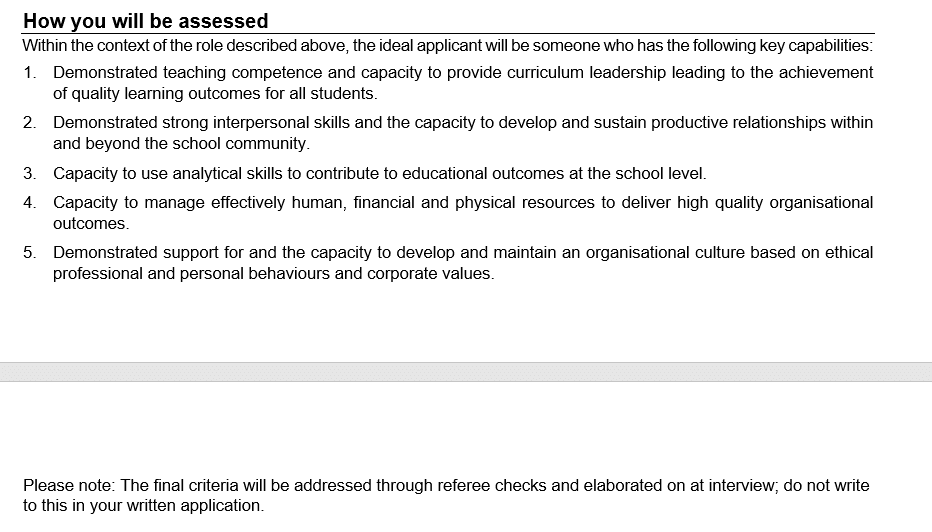 When in doubt, or if you have any further questions about applying for a specific position, there are always recruitment contact details provided. Never be afraid to ask for clarification, their job is to help better inform you, so that you know whether you're suitable, and how to make the best impression.
Remember, they want people to be able to fill the roles, and it would be a shame for you to miss out because you weren't sure how to apply, or left required information out.
NSW
How to find New South Wales Government jobs?
Some NSW government jobs do appear on some job search websites, such as Seek, or you can go directly through the state government website: https://iworkfor.nsw.gov.au/
There's even an app to make the searching and application process on your phone easier.
How to apply to New South Wales Government jobs
Read the job advertisement thoroughly to learn the requirements of the role, and what the application entails. Make sure that your resume is no more than five pages, and that your cover letter is concise, as page limits apply.
Some application directions are simple, as the one listed below.
Others provide more detailed instructions.
If the advertisement asks you to include a short statement in response to open-ended or 'targeted' questions, we recommend doing that before hitting the 'apply' button. It takes the pressure off and gives you time to review what you've written. Sometimes you'll need to address the questions in 'pre-screening questions' fields as part of the application itself, rather than upload a document. If that's the case, just copy and paste from your prepared response into the appropriate boxes.
If you can't access the online form, complete your application in a separate document, still addressing the same targeted questions and submit it, along with your resume to the hiring manager or listed contact person via email.
The NSW Government website recommends that you have your application submitted 24 hours before the cut-off time, to make sure that it is received. The cut-off time is 11:59 pm on the date of closing, except for the Department of Education Teaching roles, which close at 4:00 pm.
VIC
Where to find Victorian Government jobs
Victorian government jobs are found through their website: https://www.careers.vic.gov.au/
You can either use the job search tool, or scroll down to the "currently hiring" panel, and select "see all campaigns."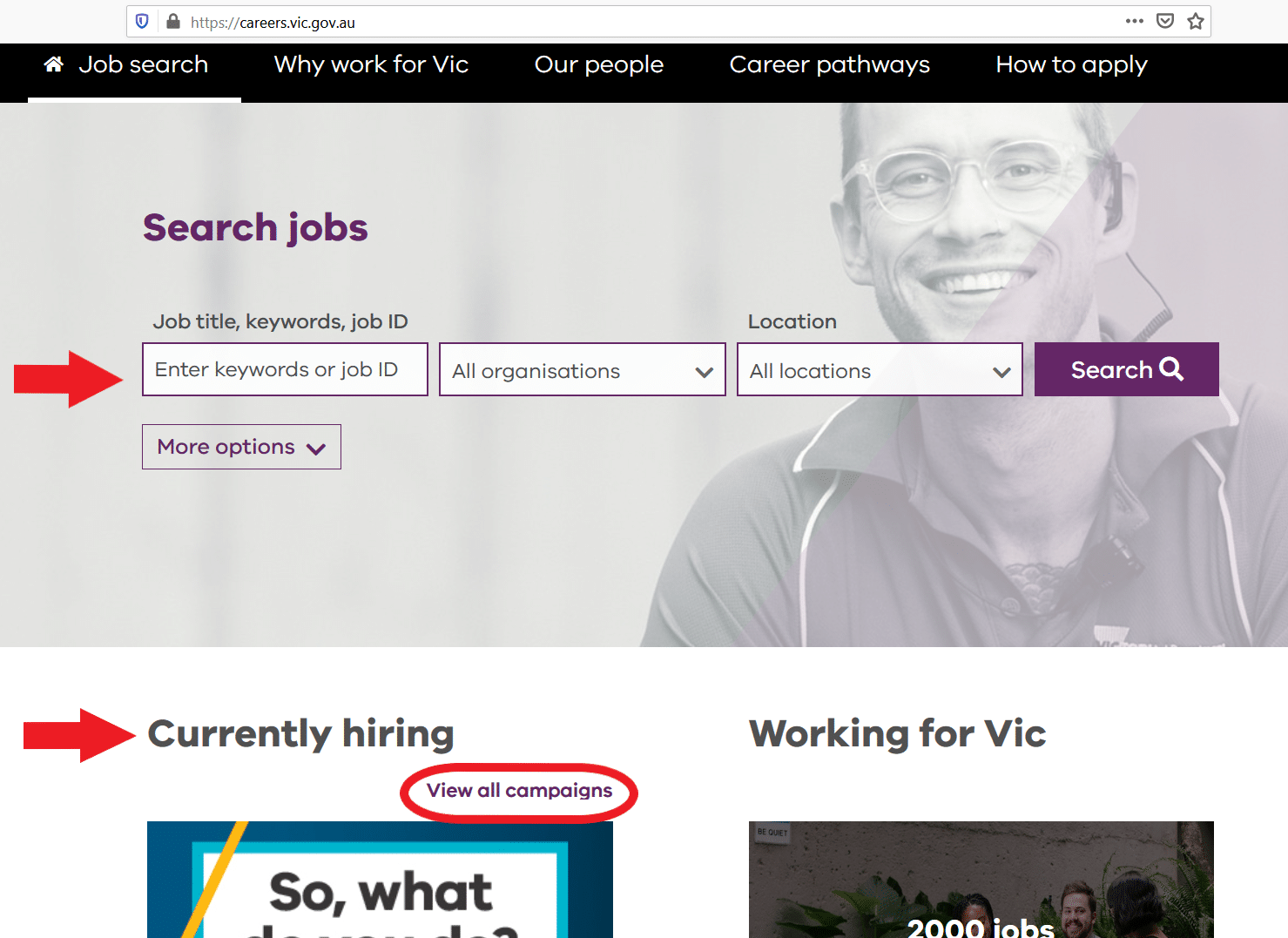 How to apply for Victorian Government jobs
Find the position that you want and make sure that you read any attachments listed on the job posting.
Based on the information provided in the job listing and supporting documents, prepare your resume and response to the key selection criteria.
Your response to key selection criteria should be provided in a separate document, with the heading "Key Selection Criteria." List each selection criteria from the position description in bold, and then write a short statement under each, with examples of how you meet the requirements. Stay concise; the Victorian website suggests each statement be only 60-120 words.
If you'd ever like clarification on a position's criteria or want to know more about the role requirements, reach out to the listed contact person. Who knows, the extra information you gather might make your application stand out as a prime candidate.
Once you have all the documents ready, hit the "apply now" button on the job post. This will redirect you to that organisation's recruitment system, where you may be asked to register or login. Follow these prompts and any that follow (such as answering pre-screening questions).
There is generally an online application for that you'll need to fill in, which is where writing and preparing the documents earlier comes in. If you have already written your response to the key selection criteria, you can copy it across the appropriate fields in the online application.
Make sure that you complete your application before the cut-off date and time.
Once the application is submitted, you'll be sent an email confirmation that it has been received. After that, you'll just need to wait to hear if you have been shortlisted for an interview. Keep those key selection criteria near to hand to refresh your memory and be prepared to address them when you get to the interview.
ACT
Where to find Australian Capital Territory government jobs
You can find Government positions within the Australian Capital Territory through their website: https://www.jobs.act.gov.au/home
Finding jobs here is a little different from the other state government sites that we've looked at so far. Rather than a full job search tool that includes search fields for keywords, specific departments, and locations, the ACT Jobsite homepage has a single search bar at the top of the site. Use keywords to bring up matching job listings.
Alternatively, if you click on "opportunities," it will take you to the job opportunities page. This page allows you to see available positions sorted by permanency, or at the bottom of the list is the option to "search an opportunity." This will take you to the full job search tool and allow you to refine results by Agency, job title, type of employment, and career interest areas.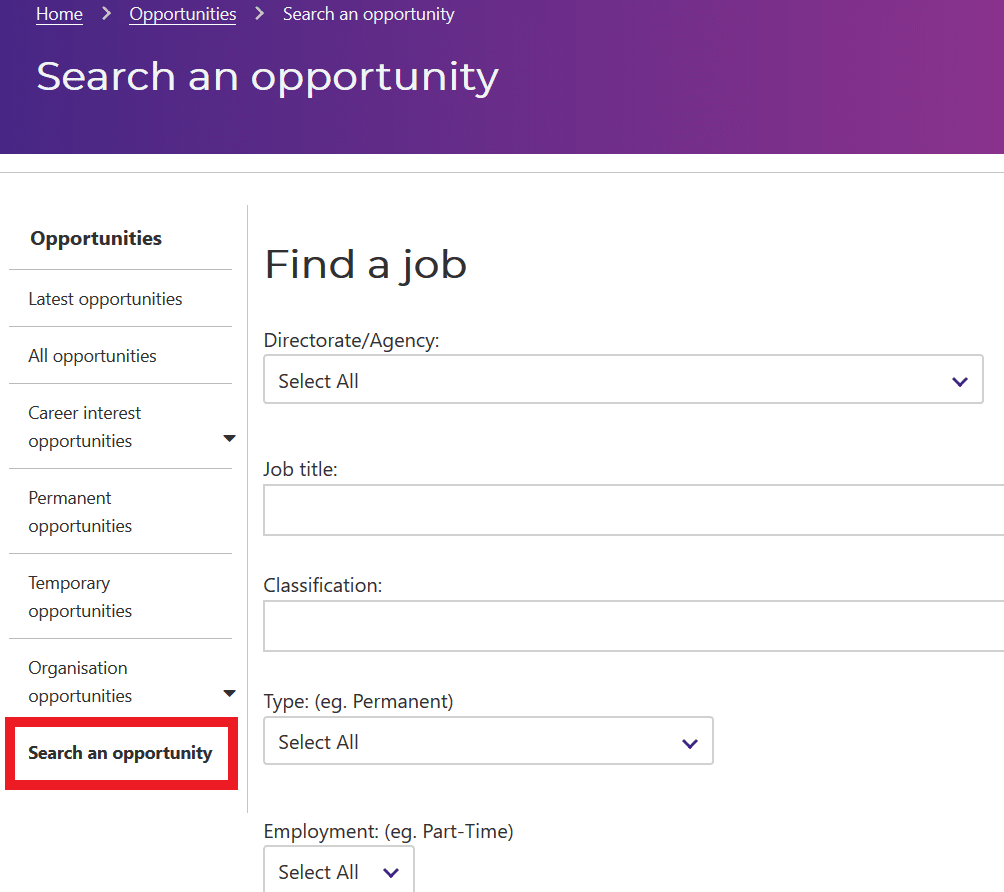 How to apply for ACT Government jobs
How you apply for a job with the Australian Capital Territory Government varies from role to role. Always make sure you read the role description and application requirements for each position thoroughly. If anything needs clarification or you have further questions about the job description, role responsibilities, or application requirements, get in touch with the contact officer listed in the advertisement.
The base requirements are:
Resume or CV
Response to the selection criteria (check for page limits/word restrictions on individual position advertisements).
Complete an online application form
Some positions require two referee reports to be written using templates provided in the advertisement and submitted with the application.
Some roles can be applied for through an "apply now" button at the bottom of the ad. Others will require you to follow a link to submit your application directly to the department hiring.
TAS
Where to find Tasmanian Government jobs
You can find and apply for work with the Tasmanian Government through their website: https://www.jobs.tas.gov.au/
The site is user friendly and allows you to go straight to the search tool, or if you prefer to browse, select the "Browse open jobs" tab. This will open a list of all currently available positions with the state government, and has a list of filters (employment type, regions, categories, and agencies) down the right side of the page for narrowing the field down.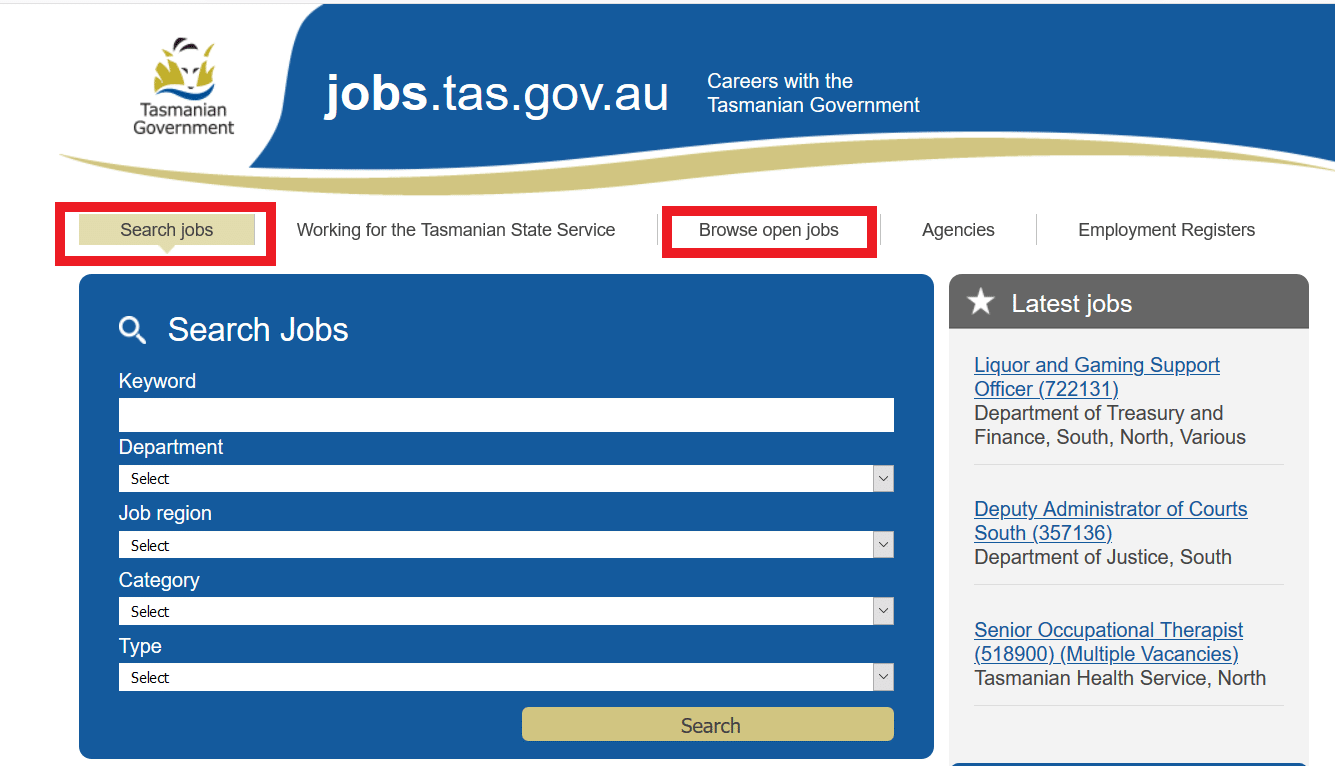 How to apply for Tasmanian Government jobs
Each job advertisement will outline how to apply for that position, and any specific requirements. They all have a base requirement of a resume, a written response to selection criteria, and an online application form.
Once you have read all the information provided for the role, write out your responses for the selection criteria. Pay attention to any word limits or page restrictions that may be listed in the "How to Apply" section of the ad; two pages is the maximum length, though some require it to be shorter.
Once you're ready, scroll back up to the top of the advertisement and click the big blue "apply now" button on the right side of the page. This will take you to a pop-up window, where you'll have to sign in or create an account to complete the application process and upload your prepared documents.
NT
Where to find Northern Territory Government jobs
You can find employment opportunities for the Northern Territory Government online at their official website: https://jobs.nt.gov.au/Home/Search
They have both job search and job alert tools, so you can have vacancies emailed to you as they become available.
How to apply for Northern Territory Government jobs
The job advertisements only provide the basic information, so make sure that you download the job description attachments to learn what the position entails, the requirements, and selection criteria.
Your application will need to include your resume and a one-page statement of application. The statement needs to introduce you, and address each of the key selection criteria listed in the job description. If there are a lot of points to discuss, see if you have any experience or examples that will cover more than one criterion. Keep it as concise as possible.
There is always a contact person listed to help if you ever have any further inquiries regarding a role.
SA
Where to find South Australian Government jobs
The official website for finding work with the South Australian Government is https://iworkfor.sa.gov.au/
The job search tool allows you to filter results by keyword, category, job type, agency, and salary.
How to apply for South Australian Government jobs
First, thoroughly read the role description, including any attached documents.
At the bottom of the advertisement is the "application instructions." Read them carefully and double-check that you have everything you need before you apply.
The application requirements vary between roles, but you will always need a resume and cover letter or written statement that addresses the key selection criteria. Check the page or word limit for both documents, as the restrictions vary.
Some positions will also require you to fill in and submit an application cover sheet or similar documents. These, and any other additional submission requirements, will be attached in the "how to apply" section.
Check the cut-off date and closing time. Don't miss your submission because you thought you had until midnight, and the cut-off is 5:00 pm.
WA
Where to find Western Australian Government jobs
Find open opportunities through the Western Australian Government job search website: https://jobs.wa.gov.au/
The job search tool doesn't look as polished as the other states', but it also provides the option to view the latest jobs and set up an email alert from the search page.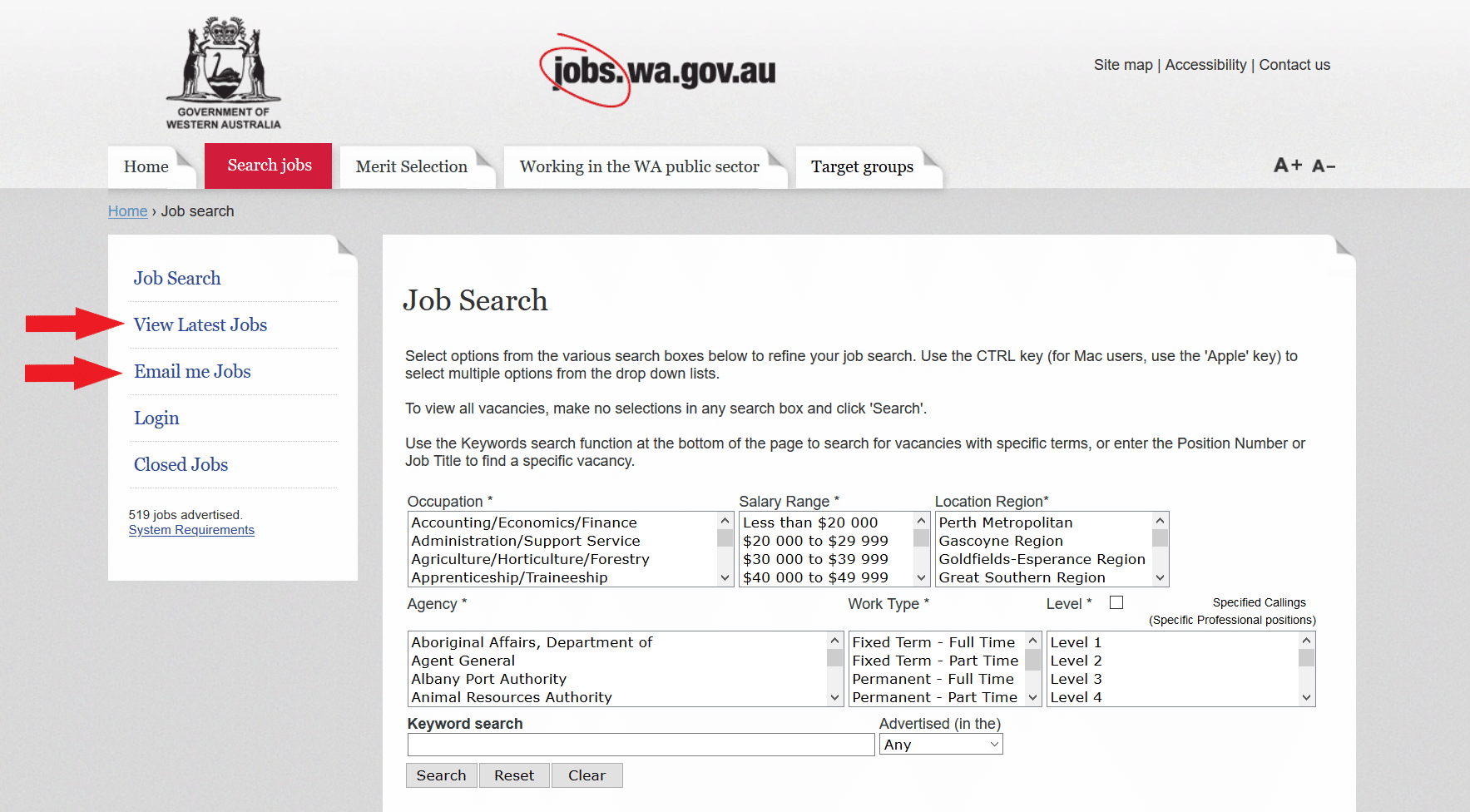 How to apply for Western Australian Government jobs
Read through the role description carefully, including any attached documents. Make sure you thoroughly understand the role, capabilities, and key selection criteria. If you need any clarification or have further questions regarding the position, call or email the listed contact person.
Each role has a "how to apply" or "application instructions" subheading that tells you the submission requirements. As a basic rule, you'll need to supply a resume and cover letter or statement that address the key selection criteria and your suitability to the role. Any other requirements, such as referee reports, will be specified in the ad.
Make sure that you check the cut-off date and time, some postings close at 4:00 pm, and late submissions are not accepted.
Ready to apply for a State Government position?
At first glance, the application process may look a little overwhelming, but if you just focus on the requirements outline in the roles that you are applying for, it's generally fairly straightforward. Remember, there's always a contact person listed so that you can make sure you understand everything you need to about the position and how to apply.
If the idea of written statements addressing the selection criteria is a little intimidating, or too time-consuming for you, we're here to help. We offer a range of services in writing for selection criteria, including those for Government roles.